Cararthron®: A herbal alternative for the relief of joint pain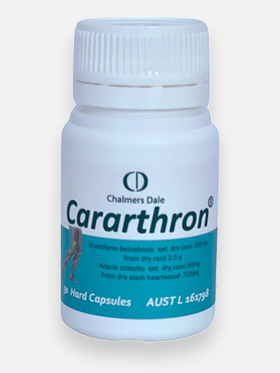 The combination of herbs in Cararthron® help provide short to mid-term relief of pain and stiffness associated with osteoarthritis.
Each capsule contains a blend of:
Scutellaria Baicalensis root extract (equivalent to dry root 2500mg)
Acacia Catechu herb extract dry concentrate (equivalent to dry heartwood 715mg)
These herbs have both been used traditionally in oriental and ayurvedic medicine for their anti-inflammatory properties.
Directions for use:
Adults: Take 1 or 2 capsules daily with meals or as directed by your practitioner. Not suitable for children. Store below 30°C.
Always read the label. Use only as directed. If symptoms persist see your healthcare professional.
---
Cararthron®: Active ingredients
Cararthron® contains a blend of Scutellaria baicalensis and Acacia catechu, both of which have been used traditionally in oriental and ayurvedic medicine for their anti-inflammatory properties for over 5000 years.
The active ingredients of these plant extracts are natural anti-inflammatory agents called flavonoids and flavans.1 Scutellaria baicalensis contains the flavonoids baicalin, baicalein and wogonin, and Acacia catechu contains the flavonoids catechin and epicatechin. They work by inhibiting all 3 enzymatic pathways involved in inflammation (COX-1, COX-2 and LOX),2 and they also help slow the breakdown of cartilage in the joints.3
This blend of plant extracts has undergone extensive preclinical and clinical testing. Recent randomised double-blind clinical trials confirm the encouraging results from preclinical studies.4 5 This naturally-derived product helps to reduce the symptoms of arthritis such as pain and stiffness, and increasing mobility.4 5 6

Scutellaria baicalensis
It is one of the 50 fundamental herbs used in traditional Chinese medicine, and is called "huáng qín" (Chinese: 黄芩).
Scutellaria baicalensis contains wogonin, a flavone which was found in one study to have anxiolytic properties in mice at doses of 7.5 to 30 mg/kg, without exhibiting the sedative and muscle-relaxing properties of benzodiazepines.
Acacia catechu
Acacia catechu contains the flavonoids epicatechin and catcechin, and has been used in traditional ayurvedic medicine practices. Widely used in treating skin related disorders, it is also a good anti-inflammatory herb, and offers relief from swelling.